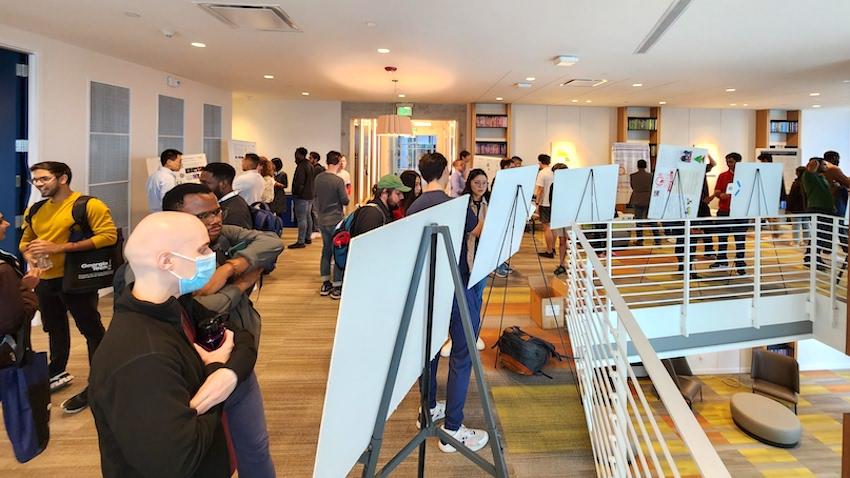 Exploring CSE – 2023 Recruiting Event
Computational Science and Engineering will hold a one-day, in-person Fall Recruiting Event on Friday, November 3. The event will help prospective applicants learn about Georgia Tech's CSE graduate programs, discover research opportunities at Georgia Tech, and discuss the application process and graduate school experience with faculty and current students.
Support for travel expenses (up to $750 travel plus up to two nights hotel stay) will be provided for accepted participants. There are no citizenship requirements. Both prospective PhD and prospective MS students are welcome to apply; some priority will be given to prospective PhD students.
Apply here by Thursday, October 12 if requesting travel support; applications with no travel support requested will be accepted through Monday, October 23. In addition to basic information, the application will ask you to answer the following questions and to upload your resume and unofficial transcript.
Discuss why the Computational Science and Engineering graduate program at Georgia Tech is a good fit for your academic and research goals. (max 100 words)
Describe your most meaningful prior research experience, course project, or internship. (max 150 words)
Briefly describe your research interests (may be general area(s) or a specific project or problem of interest). (max 150 words)
List up to 3 CSE program faculty members you may be interested in working with. (A list of CSE program faculty may be found here.) (max 50 words)
Let us know a little about yourself–anything you would like to share that will help us get to know you better! (max 150 words)
Applications will be considered on a rolling basis.
CSE Graduate Programs Application Fee Waiver
CSE will waive the application fee to its graduate program for a limited number of applicants who attend an in-person or virtual CSE information session or recruiting event. For more information and to complete the application fee waiver form, visit the Admissions & Financial Aid page.
What happens at Exploring CSE?
The Fall Recruiting Event is a great way for prospective applicants to learn about CSE graduate programs, meet CSE faculty and students, and visit the best Georgia Tech and Atlanta have to offer. Agenda items include:
Morning: Breakfast, overview of CSE, and Q&A with CSE faculty and students
Early Afternoon: Lunch, CSE social, and student-led research poster session
Late Afternoon and Evening: Tours of Georgia Tech's campus and the School of CSE at Coda, meet and greet with CSE faculty, followed by dinner in Midtown Atlanta
The Fall Recruiting Event is the best way for prospective applicants to explore CSE at Georgia Tech and experience for themselves that the School of CSE is the preferred place to study meaningful research, network with experts in the field, and reside in one of the most vibrant, dynamic cities in the United States.